Preschool Teaching Methods
Playway ...Reggio Emilla...Waldorf method
While searching for playschools, you would have come across various methodologies of play school teaching like Play way method, Reggio Emilla method etc. Nowadays most of the playschools tend to follow an dintegrated curriculum adopting philosphies from one or more of these methodologies.This article gives you an insight on the commonly followed playschool Method of teaching.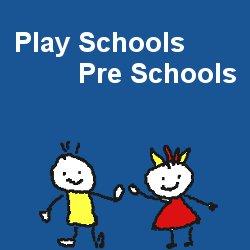 Playway Method
Playway method of learning is a child centric method where the method of teaching is informal and natural to suit the child's interests. These kind of schools belief that learning is best through play activities.
Many schools have been following playway methodology to make teaching more lively and interesting. Playway methods are being incorporated in the school curriculum for teaching languages, mathematics, social studies etc through a series of activities like games, songs, free play, gardening, construction activities etc. The learning is not just limited to cognitive development, but also for the overall development of the child.A few methods and techniques included in this method are Role plays, Projects, Theme based learning, Field trips, Puppetry etc
Some play-based schools also follow some level of formal learning as well, to ensure that the child is ready for the primary education.
Reggio Emilia Method
Reggio Emilia approach, is an Italian method of pre school education. It was started after the World War II with a lot of community cooperation. This method shares values of Montessori system and Waldorf systems.
The approach works on the following core values:
 Participation of child, teacher and parent are considered to be equally important in this approach. Parents are a vital part of this methodology. Parents are involved in defining the learning plan for the child. The philosophy is extended to parenting and home also.
The child is seen as an active participant in learning. Like the Montessori method and playway method, this approach is also child centric, where the child learns through various activities. The child, in Reggio Emilia, is encouraged to wonder, take notice, and make new relationships that allow him to reach a new level of understanding and development.
The school environment is considered as the third facilitator in this method. The class rooms include a studio which consists of materials that facilitate learning.
Documentation of child's work in progress is viewed as an important tool in the learning process for child, teacher, and parents. : Learning is made visible by documenting the learning process.
The method uses multiple symbolic languages. Commonly phrased as 'the hundred languages of children', where children are allowed to express their ideas through drawing, painting, drama, music dance etc.
Waldorf Education/ Steiner Education
The first Waldorf school was started by Rudolf Steiner, a scientist and an educator, in 1919 in Germany. The approach emphasizes on the role of imagination in learning. Waldorf philosophy believes that in order to understand the workings of the universe, people must first have an understanding of humanity.
Using the imagination is the child's most important 'work' posits the Steiner Method. A Waldorf education encourages the child to create his own toys from materials which happen to be at hand.
Waldorf curriculum is structured to the three developmental phases of childhood: from birth to approximately 7 years, from 7 to 14 years and from 14 to 18 years. Similar to Montessori system, Waldorf approach follows a curriculum that is developmentally appropriate to the child. Pre school and kindergarten learning is primarily through imitation and imagination with emphasis on practical activities. This is achieved through story telling, puppet play, games, singing, cooking, nature walks etc. In Waldorf system, academics are de emphasized in the early stages. Waldorf early childhood education emphasizes oral language and reading and writing is not formally taught in the early years.
Refer to our article for details on montessori method of teaching.